Fitness centre for active recreation
Would you like to do good exercise or just stretch your body and refresh your mind?
The hotel Alexandria has the best equipped fitness centre in Luhačovice. It offers great training space for experienced, being also an ideal place for newcomers that want to come and get familiar with the exercise. The gym has the most modern Precor fitness machines, running trainers, ergo-meters and a multifunctional pulley tower.
Guests accommodated in the hotel have free access to the fitness centre.
Try a modern and efficient vibrating platform
The vibrating platform is the hottest trend in the fitness if you want to reduce your weight and shape your body. The exercise is easy. It allows quick and effective training without unnecessary stress for joint or other body parts. It delivers results in an incomparably shorter time than is usual when training normally. The body changes are apparent already if you train on the platform three times a week.
The exercise on the vibrating platform is not included in the entrance fee to the fitness centre. We offer it to accommodated and non-accommodated guests as an individual exercise for a fee.
OUR TIP: Move your body in our fitness centre and get rid off the excessive energy and stress in the best way — during active exercise. After the training, let your muscles relax and regenerate in the sauna world or in the whirlpool. You will do something for your body, enjoying an intense and well-deserved relaxation.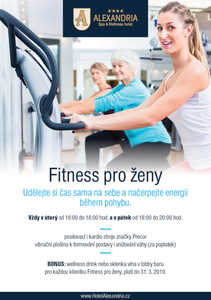 Fitness for women
Tuesday 4:00 pm - 6:00 pm
Friday 6:00 pm - 8:00 pm
Information for the public:
It is not necessary to book the entrance to the fitness centre in advance. Permanent passes are to be ordered at the wellness centre reception (entry from the street Zatloukalova, in front of the hotel Morava).

Opening hours: daily 2:00 pm – 9:00 pm 
Phone number: +420577682756